Search Tyres by Vehicle Registration
Are you looking for Car Tyres for your vehicle?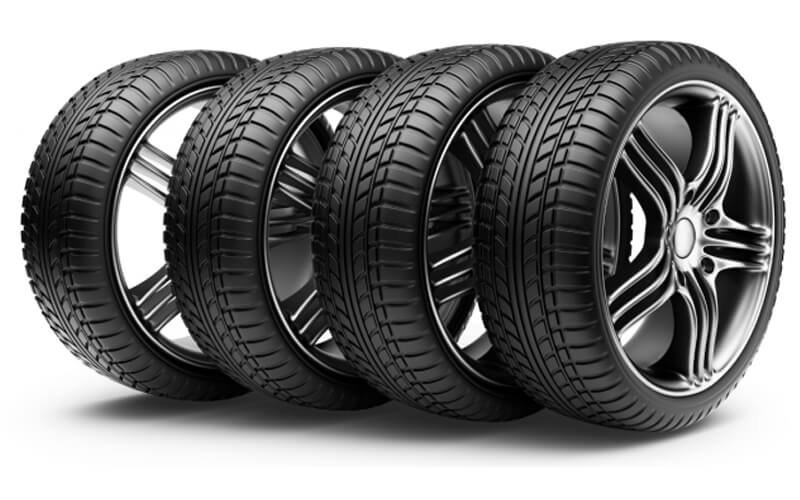 Tyres - more than just a piece of rubber!
Today, a tyre is more than just a piece of rubber that keeps in touch with the road surface. Rather, it is a high-tech product that has to withstand a variety of challenging conditions and pressures. Because it is thus an important safety factor in road traffic, there are different tyres for different conditions: summer tyres, winter tyres, all-season tyres or high-speed tyres.
Buy new car tyres Wolverhampton at Junction 11 Motors
The life of a tyre is limited
Since a tyre is subjected to an enormous load, it is worn out after a certain time: the rubber can become brittle or the profile no longer complies with the legal minimum requirements.
But how else do I recognise how old a tyre is? The tyre age can be read off the DOT number stamped on the outside wall of a tyre. For tyres from the year 2000, the DOT number is four digits, for example "2216" stands for the 22nd production week (calendar week) of the year 2016.

Important! Tyre storage, care and service

Proper storage can affect the lifespan.

Store them at a cool, dry and clean place

Make sure you clean the tyres with a good detergent and dry them well before storage
Mark the tyres so you remember their original position on the car
Wrap the tyres separately in plastic foil or black bags.
Store the tyres with rims in a horizontal position and tyres without rims in a vertical position.
Turn the tyres on a regular basis


Apart from the correct storage, it is also important to give the tyres good care. This ranges from wheel washing over regular tyre checks to regular wheel alignment and seasonal balancing.

Because, a tyre is only as good as the service around it!

We at Junction 11 Motors can do it all for you and once the purchase of new tyres cannot be avoided anymore, you can find your new tyres right here on our website.

Choose from thousands of different tyre sizes for every season and every purpose.

Whether you want to buy premium brands, middle class or budget tyres, we have just the right tyres for you.

How do I read the tyre identification correctly?

In addition to the DOT number several other information can be found on the tyres:

Nominal width of the tyre in millimetres

Ratio of edge height (shaft height) to tread width in percent

Construction of the carcass (diagonal or radial tyres)

Rim diameter in inches

Load Index

Speed Index

Name of manufacturer

"*" for winter tyres
So if you read this:
185 - the width of the tyre at the widest point is 185 mm
65 - the percentage of flank height to tire width is 65%
R - Radial construction of the tiye carcass (D denotes the diagonal construction)
15 - the rim diameter for this tyre is 15 "
85 - the load index is 515 kg.
H - the speed index allows a maximum speed of 130 mph
Tyre markings

Additional information can be found on the so called tyre label – a standardized marking to provide information on properties such as fuel efficiency, wet grip properties and external rolling noise: the EU tyre label.

These three properties provide information about tyre performance and can be an important indicator when making a purchase decision.

Tread

It is the connection to the road surface. The tread contains tread blocks and grooves as well as lamellas, which are differently constructed depending on whether they are summer- or winter tyres.

Side wall

It is the outer protection of the carcass.

Carcass

It is the "skeleton" of a tyre. The carcass is the key strength carrier and holds the tyre together. It is completed by belts and treads and consists of one or two layers of fabric (consisting of synthetic fibres, rayon and in radial tyres also made of steel cords).

Bead

It provides the connection between tyre and rim and consists of steel wires as well as the bead toe, bead sole, bead heel and the bead throat.

Inner layer

It is made from a special rubber compound and ensures that the air does not diffuse to the outside.

Why the right tyre pressure can be vital!

Tyre pressure influences not only the service life of a tyre but also fuel consumption, driving safety and overall driving behaviour. Therefore, it is particularly important to regularly check the tyre pressure.

We advise you to come to our Junction 11 Motors workshop in Wolverhampton regularly for a free tyre check.

Our experts will visually inspect your tyres to make sure there is no damage to the side walls, no hidden puncture, the tyres are evenly worn and have the correct tyre pressure.

This free tyre check only takes a few minutes, but you will leave from us with peace of mind knowing your tyres are safe.