Are you looking for
 

Exhaust Service Wolverhampton

 

for your vehicle?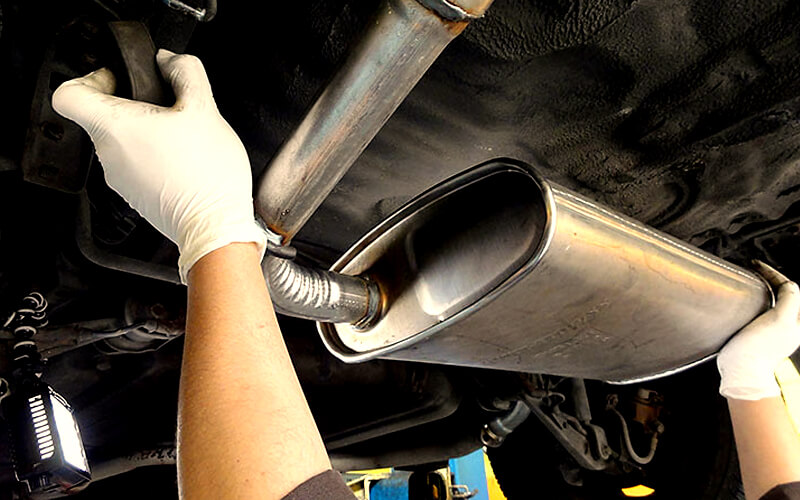 No rust and no-lose parts!
The exhaust system of your vehicle reduces noise- and environmental pollution and it also protects you and others from toxic fumes. A defective exhaust system, however, puts you and others in danger. So have the exhaust checked from time to time.
Free exhaust check
Favourable fixed prices for the installation of rear silencers
Only original equipment manufacturer spare parts
Fast service six days a week
The pipe visible at the rear of your vehicle is just the last piece of the exhaust system. In fact, an exhaust consists of many different parts: the exhaust manifold, the so-called gutter, the catalyst and up to three mufflers.
During each trip, they are subjected to extreme thermal stress. Strong temperature fluctuations due to hot exhaust gases and outside temperatures, but also road salt and moisture, have a strong impact on the exhaust system. So it is no wonder that holes are formed relatively quickly, parts are loosened or even rusted through.
The last silencer - called rear silencer - is broken most often: it is about 90% of all damage to the exhaust that it needs to be replaced.
At Junction 11 Motors, an exhaust repair includes the following:
Free visual inspection of the exhaust system
Removal of worn parts, like for example the muffler
Professional installation of spare parts in original equipment manufacturer quality (silencer and/or accessories, such as suspension rubber, clamps, exhaust sockets, etc.)
Safety check for tightness and correct fit
Environmentally sound disposal of the old exhaust parts
Junction 11 Motors - Exhaust Service Wolverhampton
Get your car's exhaust checked at your Junction 11 Motors workshop!
We inform you reliably about the condition of your exhaust system and advise you on whether it makes sense to replace individual parts.
We only exchange what really needs to be exchanged!
Quality silencer
With Junction 11 Motors, you get only tested original part quality when replacing your silencer. Guaranteed.